We offer wholehearted gastronomers with passion, experience and the will to succeed a chance to develop themselves, alongside a strong partner with an exceptional burger-concept. Become an independent entrepreneur as well as a member of the HANS IM GLÜCK family and our special culture.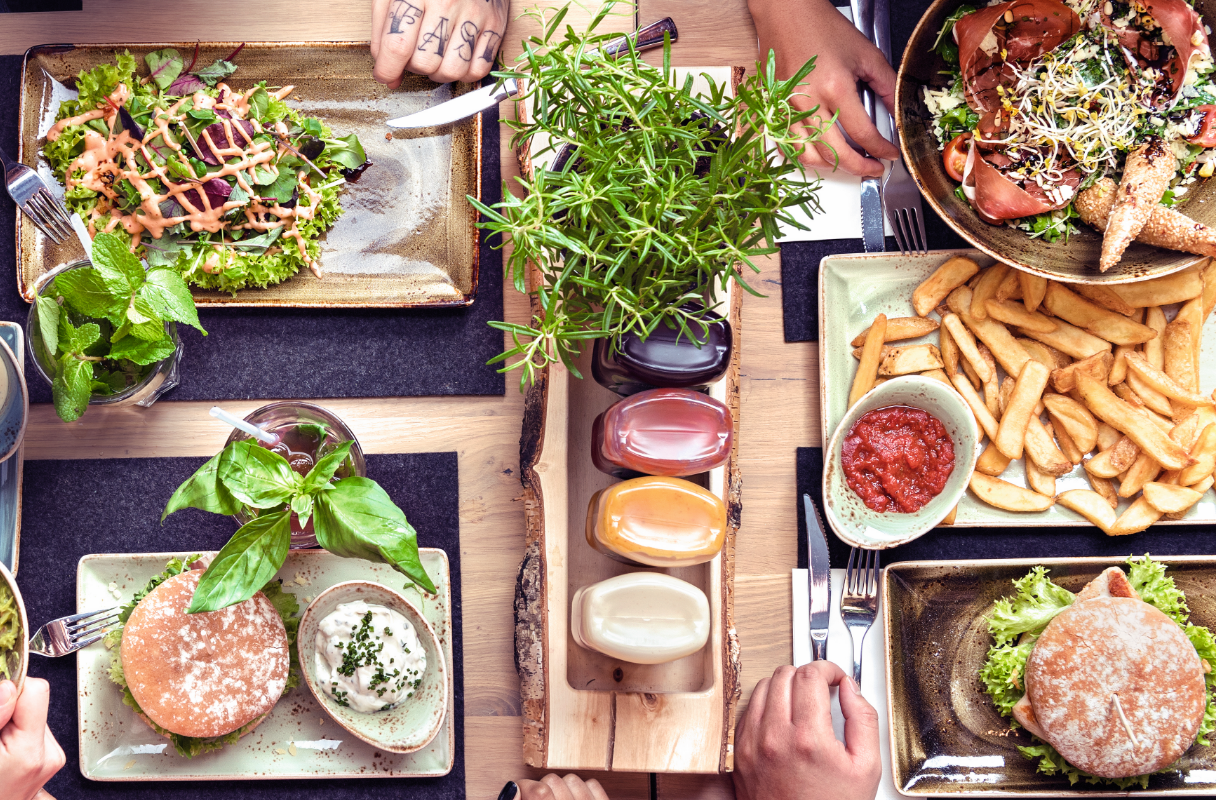 HANS IM GLÜCK - Exceptional quality and a wide range
HANS IM GLÜCK attaches the utmost importance to excellent quality and fresh preparation of all its ingredients. The decisive factor, however, is above all, the creative interpretation of the 'burger'. We offer an overall harmonious concept with outstanding, preferably regional ingredients, great variety, and unusual names. Our range of products comprises a large selection of different varieties of bread, cheese and patties, complemented by several, partly vegan, table sauces like the Happy-fries-sauce, our delicious orange-mustard-sauce, a barbecue sauce and a special Hans Ketchup. A broad choice of healthy salads as well as vegetarian and vegan patties fulfil all wishes.
Find your happiness
HANS IM GLÜCK is an exceptional burger-concept, with several locations in Germany, Austria and Switzerland. Its appearance significantly differs from other burgergrills and defines new standards when it comes to freshness and authenticity for a nutritionally conscious target group. The HANS IM GLÜCK culture is part of our brand and a binding element of the franchise system. This culture is the key to a successful partnership.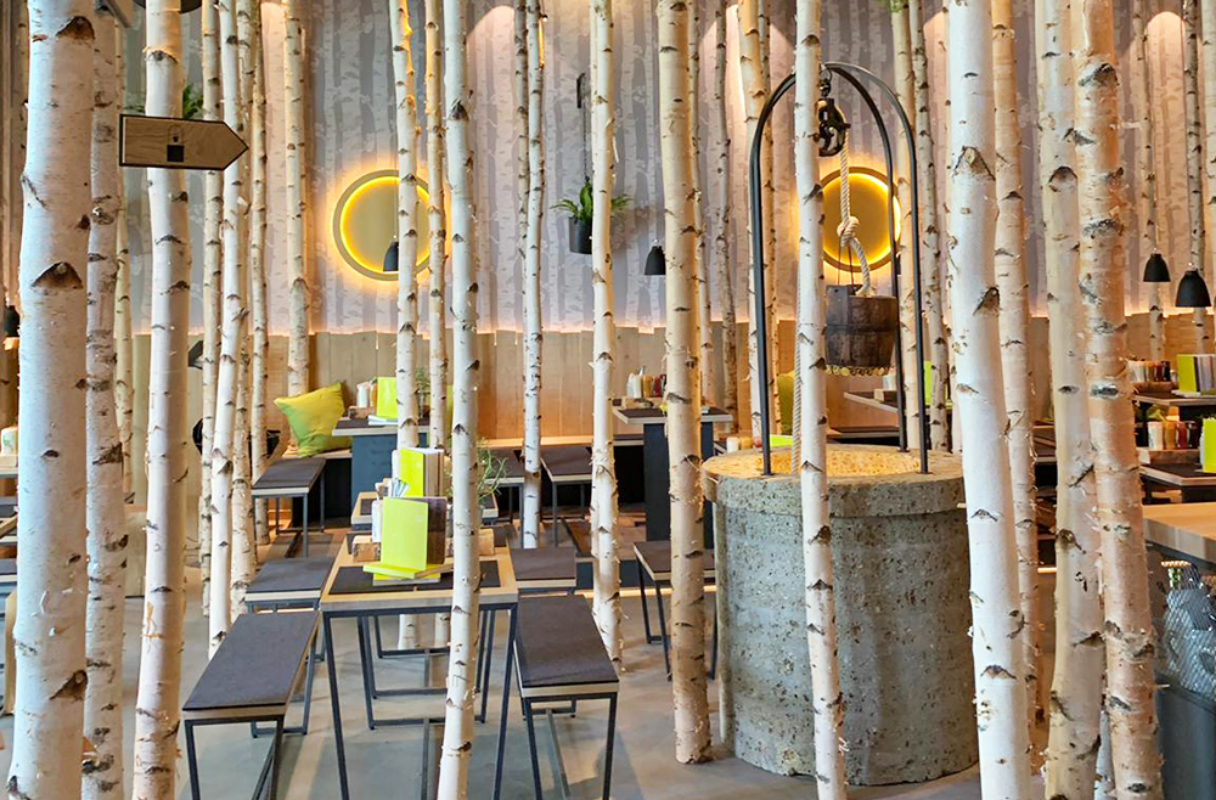 VOICES FROM THE FRANCHISE PARTNERS
As part of the family " Hans im Glück" we feel understood and in good hands. We take our experience in the gastronomy sector with us into our everyday working life and can use it in a targeted manner. This motivates and motivates us every day. The "Hans im Glück" franchise system offers us the opportunity to bring in our many years of experience in the construction, commercial as well as personnel management network and thus realize new locations in Switzerland. We are motivated, determined and happy to be part of our team, not least because we really enjoy our burgers, salads and fine drinks.
I became a Hans im Glück franchisee because this type of system gastronomy and its franchisor managed to emotionalize a product with little emotion like the burger - that fascinated me. For me, the atmosphere in the burger grills, coupled with product intelligence and quality, make up gastronomic success, and I have that together with (my) great team and the helping hands at headquarters. Emotions are (always) the true "decision makers" for me! I also feel this with my guests. At Hans im Glück Burgergrill, guests can make themselves comfortable in the birch forest, warm colors and a bit of "feeling good" are what we pass on to our guests.
Hans im Glück has a very fascinating attraction for me - the mixture of the special atmosphere, the great food and the individual service has inspired me since the beginning. I am incredibly proud to be part of this development, to further develop my entrepreneurial activities with the brand and, above all, to be able to be with many great people every day. The balance of systemic standards, new innovations, and at the same time the opportunity to contribute oneself is not a granted thing in the restaurant industry, but for me that is exactly what makes Hans im Glück so successful.
HANS IM GLÜCK offers a franchisee the unique opportunity to implement his creativity, wishes and ideas of his burger grills within the framework of the specifications as he would like. With this brand you can find your true HAPPINESS in your working life. It simply makes you happy to work with the fantastic teams every day and together give the guests an incomparable experience.
DIRECTOR FRANCHISING –
MICHAEL OETTL

T +49 89 125094-552
Karlstraße 10, 80333 München
Kann ich als Einzelperson oder auch mit Partnern einen HANS IM GLÜCK eröffnen?
Beides ist möglich. Sofern ein oder mehrere Partner gemeinsam einen HANS IM GLÜCK Burgergrill betreiben möchten, ist im Vorfeld zu klären, wer der operative Partner, also der Geschäftsführer werden soll. Natürlich unterliegen alle Partner dem mehrstufigen Kennenlernprozess.
Wie hoch ist die Einstiegsgebühr?
Die Einstiegsgebühr ist modular aufgebaut (Ausbildungs- und Standortgebühr) und variiert je nach Betreuungsbedarf.
Die Schulungsgebühr ist vor Antritt der Grundausbildung in einem Hospitationsbetrieb fällig.
Die Standortgebühr ist bei Abschluss des Franchisevertrages fällig.
Wie lange ist die Laufzeit des Franchisevertrages?
Der Franchisevertrag wird für jeden HANS IM GLÜCK Burgergrill separat geschlossen. Die Laufzeit beträgt in der Regel 10 Jahre. Verlängerungsoptionen sind vom Mietvertrag und der geleisteten Performance des Franchisepartners abhängig.
Wie hoch sind die laufenden Gebühren?
Die monatliche Gebühr beträgt 9,5 % des Nettoumsatzes für das Nutzungsrecht der Marke HANS IM GLÜCK, das systemweite Marketing und das umfangreiche Leistungspaket der Franchisegeberin.
Wie hoch ist die durchschnittliche Investition für einen HANS IM GLÜCK?
Die Kosten können stark variieren, denn es kommt darauf an, ob es sich um einen Rohbau, einen bereits bestehenden gastronomischen Betrieb, der teilweise umgebaut werden muss oder eine Einzelhandelsimmobilie handelt, die komplett umgewidmet werden muss. Die Gesamtinvestitionssumme des Franchisepartners pro Standort beträgt, je nach Größe und Ausstattungszustand der Räumlichkeiten, zwischen ca. 1.100.000 € bis 1.800.000 €. Der erforderliche Eigenkapitalanteil sollte bei 30 % der Gesamtinvestitionssumme liegen.